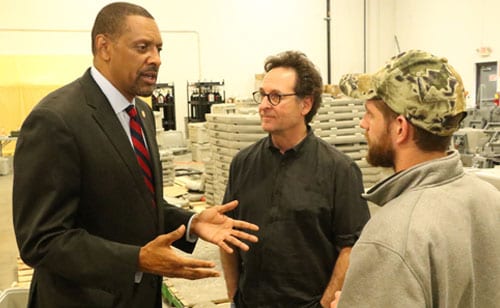 By Valerie J. Morgan
Atlanta Rotomolding has partnered with a Canadian-based company to bring 350 jobs to DeKalb County.
Officials with California Innovations, headquartered in Toronto, Canada, said they chose DeKalb to expand their manufacturing operations for rotationally molded coolers and sporting goods accessories because it was a "good fit."
"We were looking on the internet and found Atlanta Rotomolding. We decided to call them and after speaking with them, we liked their track record and we decided it really was a good fit," said Mel Mogil, president and CEO of California Innovations.
Atlanta Rotomolding, a custom molder, is gearing up to manufacture the coolers for Walmart. Officials met with State Rep. Vernon Jones recently to discuss the project and and take him on a tour of Atlanta Rotomolding's headquarters at 3290 Panthersville Road in Decatur.
"It's a big undertaking, a gigantic project," said Mogil. "We're going to be hiring for everything from office personnel workers to machine operators and engineers."
Jones said he is not only excited about the job opportunities that will be provided but the fact that the coolers are being made in America.
"I love it that we can display the American flag. It's just the kind of economic development that DeKalb and America needs," Jones said.
Carlos Garrido, supply chain director for California Innovations, said he, too, is pleased that Wal-Mart has agreed to partner with his company to manufacture the coolers in the U.S.
"I think it says a lot that Wal-Mart is selling them," said Garrido.
Garrido said his company expects to go "full tilt" in May, just ahead of the spring sporting season. He said the work crews, comprised of both men and women, are expected to begin producing over 25,000 coolers per week for Walmart. Three sizes of the  coolers will be manufactured, along with accessories.
Sarah Carter, is director of human resources and can be reached at sara.carter@ca-innovations.com or 426-590-7700, ext. 249.
For more on the story, visit On Common Ground News (Official) Facebook page.