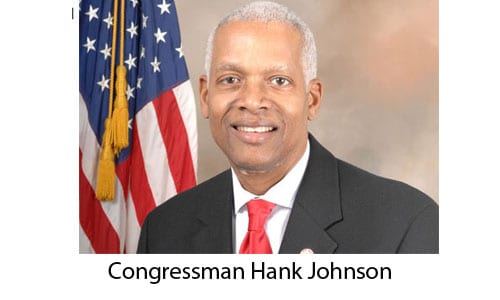 WASHINGTON, D.C. — Congressman Hank Johnson (GA-04) provided the following statement before the House Rules Committee today (Sept. 20) offering an amendment to the National Defense Authorization Act (NDAA) to reform the Pentagon's 1033 Program, which sends local law enforcement agencies free military weapons and equipment straight from battlefields aboard to the streets, colleges and universities throughout the United States:
"Mr. Chairman. Thank you for allowing me to testify in front of your committee today. These days, there is not much that Democrats and Republicans see eye to eye on. But there is one thing upon which I think we can all agree. That is, that community confidence in law-enforcement, is probably at an all-time low right now.
"A huge factor in the loss of confidence in law enforcement has been the militarization of police departments across the land.
"The creeping militarization of police departments has been exacerbated by the 1033 program, that sets up a pipeline to transfer surplus military equipment, from war zones to domestic law enforcement agencies. Law-enforcement agencies, without consent of civilian authorities, have been able to obtain surplus military grade weaponry, directly from the department of defense under the 1033 program. It is civilian authorities who should decide whether such equipment is needed, not the law enforcement agencies themselves. The approval of city councils, county commissions, and other civilian authorities is bypassed under the 1033 program.
"Police agencies have often acquired this military grade weaponry when they have not needed it. Nor have they been trained as to how and when, to use the equipment. But a requirement under the 1033 program, that any acquired equipment be placed into use within 12 months of acquisition, has resulted in the misuse of the equipment, and the abuse of the civilian population against whom it has been used. The result has been communities alienated, and a loss of confidence in law-enforcement.
"For years, momentum has been building towards reform of the 1033 program. Over the last several decades, the 1033 program has transferred more than $7.4 billion dollars in surplus military equipment to over 8,000 federal, tribal, state, and local law enforcement agencies across the nation.
"In 2014, when I first introduced the Stop Militarizing Law Enforcement Act, bipartisan legislation to reform this program, it was characterized as "too progressive" or "too liberal". But I pressed forward. In fact, I have continued to offer this language each and every Congress because reform of the 1033 program is vital. I especially want to thank my colleague from California, Mr. McClintock for cosponsoring this amendment and joining me in this bipartisan effort. Rep. McClintock recognizes the danger of law enforcement agencies avoiding civilian oversight and acquiring military grade weaponry without the support of the citizenry. We must seize this opportunity to enact much-needed reform.
"My bipartisan amendment is the kind of change our country needs and supports. Public polling indicates that a majority of Americans favor reform, and over 90 non-governmental organizations across the political spectrum supported this amendment when it was offered in the House Armed Services Committee earlier this month. This text has passed the House twice in the last year alone. My commonsense amendment goes only after items that endanger and divide communities, while allowing the transfer of non-lethal supplies and equipment, such as tents, computers and desk chairs, etc., to continue.
"American communities are not – and should not be – turned into battlefields, and people in our communities should not be looked at as enemy combatants. And yet, decades of militarization of our nation's law enforcement have transformed many police departments from a community-based regulatory arm to an occupying army that undermines the nature and character of our state and local governments. The lines between the law enforcement ethos, which is to protect and serve, and the military mindset of kill, destroy and occupy, has been blurred.
"Last year, we witnessed the response by law enforcement to civil rights demonstrations. We saw images of local police in military vehicles, with military-grade weaponry trained on citizens who were simply exercising their constitutional right to peacefully protest. Time and again, we have seen irrefutable proof that this program must be reformed. Our current system goes against everything we stand for as Americans. The time for reform is now. It's time to heal our communities and restore trust and confidence in law enforcement.
"The ending of the war in Afghanistan makes it even more important than ever that we close down this pipeline of military grade weapons from foreign war zones to the streets of our nation. Over 17,000 pieces of military equipment have been declared excess, or surplus, and sent to the Defense Logistics Agency for distribution onto our streets. The time to act is now!
"I was disappointed when my 1033 amendment was not made in order last year, but enough is enough. This should not be a difficult vote. With American lives at stake, we must not delay. Mr. Chair, this bipartisan amendment must be made in order."