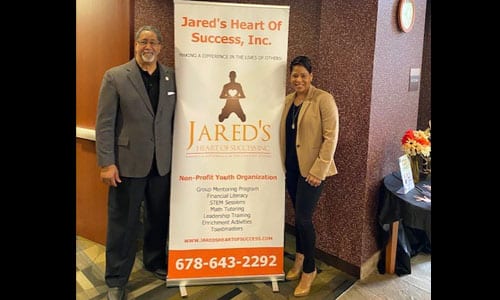 Mayor Jason Lary poses with DeKalb County Police Chief Mirtha Ramos at the Prevention of Violence Awareness Day
A discussion on the safety and well-being of youths in the community was one of many topics discussed on Feb. 1 at the Jared's Heart of Success, Inc's. Prevention of Violence Awareness Day.  The event, held at the Stonecrest Library, was a part of an ongoing national awareness program that educates youth on violence prevention through programs on bullying, suicide prevention, social isolation, gun violence, and teen dating.
Mayor Jason Lary and members of the law enforcement community were guest honorees and panelists at the event.  The mayor presented the organization with a proclamation declaring Feb. 1, 2020 as Prevention of Violence Awareness Day in Stonecrest.