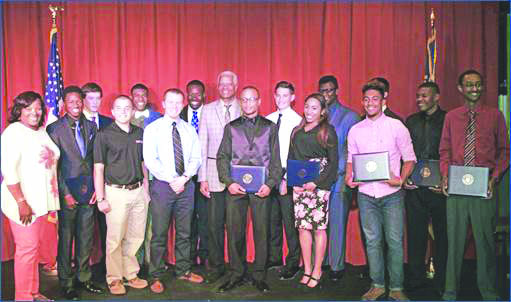 Congressman Hank Johnson (GA-04) announced the nominations of 23 Fourth District students to the United States Military Service Academies for the class of 2020, including the U.S. Naval Academy in Annapolis, MD, the U.S.  Military Academy in West Point, NY, the U.S. Air Force Academy in Colorado Springs, CO and the U.S. Merchant Marine Academy in Kings Point, NY.
In advance of this round of nominations, staff from Johnson's office held more than 24 information sessions at schools throughout the district, which includes parts of DeKalb, Newton and Gwinnett counties and all of Rockdale County.
"Putting forward nominations of Fourth District students for admission to the U.S. Military Academies is one of the most important jobs we do each year," said Johnson, a member of the House Armed Services Committee.          "The nomination process is not easy. It's a long road, and I congratulate all our nominees. All of our outstanding nominees are at or near the top of their class in academics, athletics and community service. It's quite an accomplishment and all our students and their parents should be justifiably proud."
U.S. Naval Academy – Annapolis, Maryland
Lifahn Adams – Heritage High School
Joshua Denton – Brookwood High School
Nakayla Smith – Newton High School
Christopher Stoves – Parkview High School
U.S. Military Academy – West Point, New York
Riley Eck – Grayson High School
Maxwell Grum – St. Pius X Catholic High School
Artice Hobbs – Newton County High School
Ayden Martin – South Gwinnett High School
Trontavious Tate – South Gwinnett
Micah Williams – Seoul American High School
U.S. Air Force Academy – Colorado Springs, Colorado
Michael Bauh – Shiloh High School
Dorsey Beckless – Miller Grove High School
Devon Canterbury – South Gwinnett High School
Blake Davis – Rockdale County High School
Beka Dufera – Tucker High School
Sierra Durden – South Gwinnett High School
David Hagler – Brookwood High School
Brandon Hines – Stephenson High School
Andrew Rankin – Brookwood High School
Edgar Woods – Miller Grove High School
U.S. Merchant Marine Academy – Kings Point, New York
Getwon Butler – Salem High School
Isaac Church – Druid Hills High School
Alexander Zielinski – Ben Franklin Academy
To be considered for an appointment to a service academy, applicants must be nominated by a member of Congress or other authorized nominating source. However, final admission is determined by the respective academy. All members of Congress may nominate up to 10 candidates per opening. Those who graduate from a Service Academy will receive a Bachelor of Science degree, be commissioned as a 2nd Lieutenant, and honorably serve in the military for a minimum of five years.
For more information about the nomination process, contact Congressman Johnson's office at 770-987-2291 or visit  hankjohnson.house.gov/serving-you/military-academy-nominations.