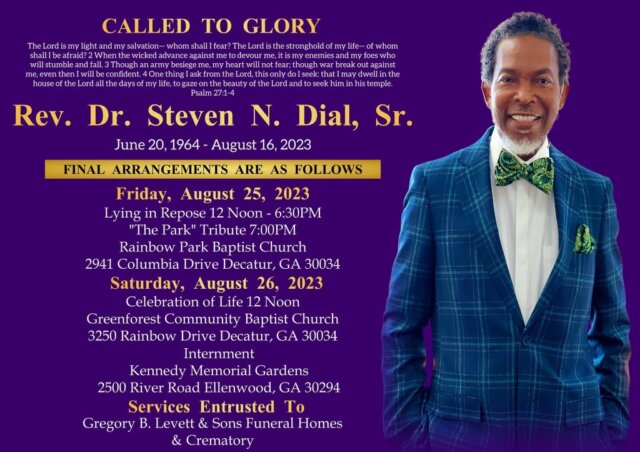 On Common Ground News extends its heartfelt condolences to the family of the Rev. Steven N. Dial. While my wife, Val, and I were saddened to learn of his passing this morning, we rejoice in knowing that he is with our Father. Rev. Dial was an awesome leader who not only had a deep commitment and love for his congregation at Rainbow Park Baptist Church in Decatur, but DeKalb County and the metro Atlanta community at large. 
For years, Rev. Dial hosted the Jan. 1 Jubilee Day Celebration for the DeKalb County NAACP at Rainbow Park Baptist. His church was involved in the GED program and hosted a graduation for the students in the program. Pastor Dial worked on voting initiatives and civil rights and human rights issues. He partnered with energy companies and financial institutions to prepare homeowners for the Environmental Protection Agency's phase out of the

 R-22 refrigerant commonly known as Freon beginning in 2019, replacing the refrigerant with the environmentally-friendly Puron and more efficient air-conditioning systems in homes. 
Rev. Dial was part of the DeKalb Pastors Alliance. He worked to recruit members to join forces for the greater good of the community and  he was a supporter of On Common Ground News, gi
ving and encouraging and never asking anything in return.    
We are so grateful that our paths crossed. We ask that you keep Pastor Dial's wife and children in your prayers. We shall miss his presence but Pastor Dial will forever remain in our hearts.