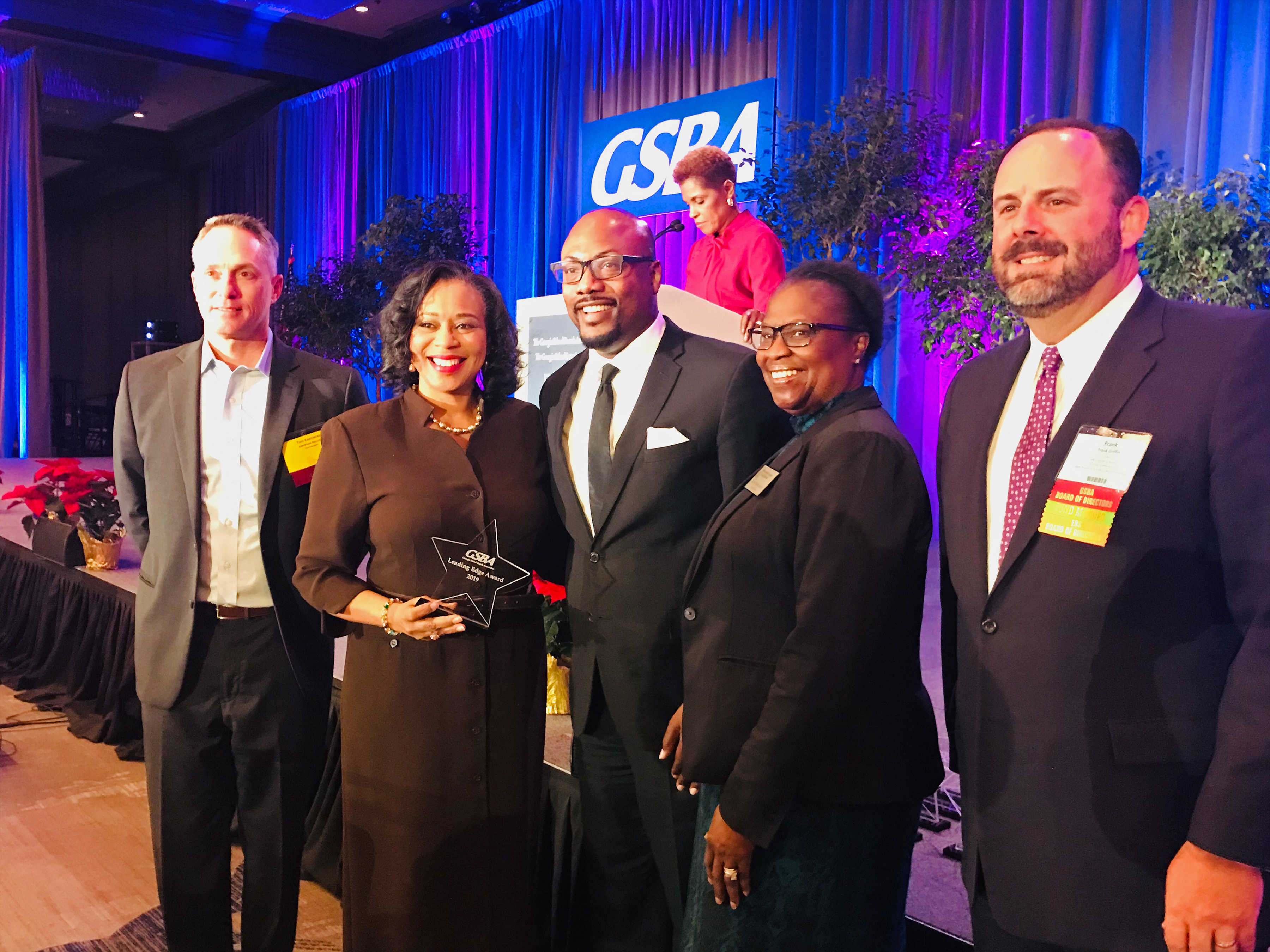 Pictured left to right: GSBA Sponsor Tom Kamierski, Rockdale County BOE Chairwoman Katrina Young, Rockdale County Public Schools Superintendent Terry Oatts, Rockdale County BOE member Sandra Jackson-Lett, GSBA President Frank Griffin receives inaugural Leading Edge Award.
The Rockdale County Board of Education (BOE) was recently honored by the Georgia School Boards Association (GSBA) with the inaugural "Leading Edge Award," which highlights school districts that are leading the way in ensuring students are competitive in an ever-changing global market.
The board was recognized for its innovative college and career readiness efforts during the Georgia School Boards Association / Georgia School Superintendents Association Annual Conference, Dec. 5-6 in Atlanta.
"We commend the Rockdale County Board of Education on receiving the GSBA Leading Edge Award," said Rockdale County Public Schools (RCPS) Superintendent Terry Oatts. "Our Board of Education, which has a history of leading the way through innovative practices, is committed to providing all students with options and opportunities to be successful. Through its collaborative strategic planning process and active community involvement, the Board and school system are able to respond to the changing needs of our families and local community and position our students for success on the global stage."
The nomination for the GSBA Leading Edge Award highlighted RCPS college and career readiness efforts such as the creation of Rockdale Career Academy, which enrolls more than 1,800 high school students, robust partnerships with community businesses and organizations, growing Dual Enrollment programs allowing high schools students to earn college credit, the wide array of Career, Technical, Agricultural, Education (CTAE) offerings – including more than 30 career pathways in high schools and eight offerings in middle schools – and Work-Based Learning program with 159 students at 96 area employers.
The graduation rate for RCPS students involved in CTAE programs is 96.37 percent, closely aligned with the state-wide rate which rose to 96.54 percent for 2019. This rate applies to students who complete a Career Pathway, which requires three years of prescribed coursework.
The Rockdale  BOE was named a GSBA Exemplary Board, the highest status in the GSBA Board Recognition Program, in 2019, 2018, 2016, and 2015. The GSBA Board Recognition Program was paused during 2017 and revised to require an even higher level of commitment from school boards and individual members.