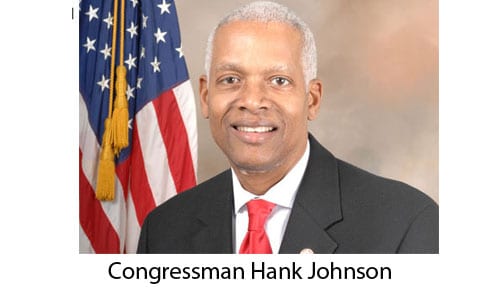 By Rosalyn Ridgeway
Chair, Rockdale County Democrats
Rockdale County Democrats would like to commend our 4th District Congressional Representative, Hank Johnson, for getting into "GoodTrouble" this past week to defend our free, fair, equal and easy access to the ballot box. 
Johnson joined eight others for the Black Votes Matter peaceful protest in Washington, D.C.  He was arrested for demonstrating without a permit along with Reverend Francys Johnson, an affiliate of the New Georgia Project.
Johnson said he was following in the footsteps of his friend and mentor, the late Congressman John Lewis.  He and his companions were protesting against the repression of voting rights imposed recently by states like Georgia in an effort to increase Congress' sense of urgency on voting rights issues.
About 83% of citizens believe there should be national standards for voting access and fair elections. This is the focus of two pieces of legislation – The For The People Act and the John Lewis Voting Rights Act. These two pieces of legislation would work together to provide voters the assurance of the access and fairness they seek.
In order to pass this critical legislation, there must either be 60 Senators who support it, or a way to work around the Senate filibuster procedure so it can be passed by a 51 vote margin.
We should join Representative Johnson in finding our own peaceful ways to get in some  "Good Trouble" to protect the right to vote here in Georgia. Should we not emulate Johnson's commitment, we are in danger of losing our most fundamental right: to give voice through our vote for the type of government under which we will live. 
Again, we thank him for showing active representation on our behalf.