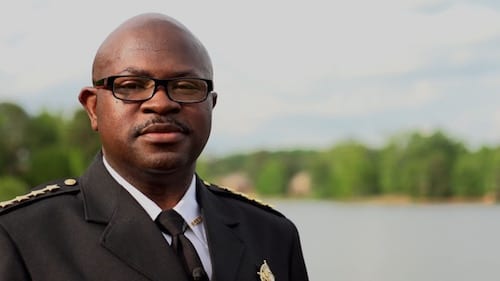 Written by Sheriff Eric Levett
Many Rockdale residents were impacted in one way or another by the recent tropical storm that hit Georgia as a result of Hurricane Irma. From power outages to school closings, Rockdale was impacted and our community showed its strength and cooperation during the crisis. I am extremely proud of Rockdale residents. We came together when needed and we pitched in to show we are united.
Even before we felt the impact of Irma, first responders in Rockdale and the City of Conyers were working hard to prepare.  Plans were put in place to handle emergencies, begin cleanup efforts and put the community back on track.
The Rockdale County Emergency Management Agency set up a Command Center in the Sheriff's Office building and we worked together to respond to residents and their needs.
Throughout the event, we kept residents informed of what was going on. Social media proved to be one of the best and most reliable resources to get information out to the public.  We connected with the public through our Facebook, Twitter and Instagram pages.
I want to thank several people for making our efforts a success.
First, I want to give a tremendous shoutout to Board of Commissioners Chairman Oz Nesbitt for being so supportive.  Our staff worked hand in hand with Director Lopez from Public Relations and Chief of Staff Corey Hambrick to deliver messages and assist the county.
I also want to thank Rockdale Schools Superintendent Richard Autry and his team for their support in keeping us in the know as it related to the decisions concerning the school system.
I appreciate our Rockdale County Public Works and Department of Transportation for providing assistance where needed.
I thank the City of Conyers Police Chief Gene Wilson, City Manager Tony Lucas and the entire City of Conyers for answering numerous calls and providing numbers to residents in need so they would know whom to contact.
Thanks goes to our great Fire Chief and EMA Director Dan Morgan and Deputy Director Bill Cate for providing assistance and direction daily to not only residents but all of the agencies involved in responding during the storm. Their leadership was demonstrated resoundingly.
Last but not least, I want to thank the deputies, firefighters, National EMS, our E-911 and staff of the Rockdale County Sheriff's Office.  Words cannot express how proud I am to have you represent Rockdale County.
If I missed anyone, please know that I greatly appreciate everyone's efforts. We are over the hump but there is much work yet to be done. Together, we will get there. We are Rockdale Strong!
Any Rockdale resident or business impacted by Irma should report the information to Rockdale County's Emergency Management Agency at: ema@rockdalecountyga.gov.
Throughout each month, the clerk of courts, tax commissioner, sheriff and probate judge—Rockdale's elected constitutional officers—discuss topics relevant to their respective roles.