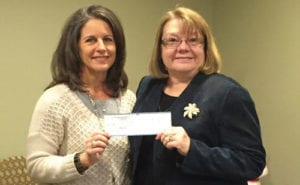 The 7th Annual Race Against Violence (RAV) demonstrated why is it becoming a premier race in Rockdale County, drawing a record number of participants and sponsors, supporters say. The race raised approximately $25,000 to benefit the Rockdale County Task Force Against Family Violence and Project Renewal, the local shelter for victims of family violence.
Rockdale State Court Judge Nancy Bills, chair of the Rockdale County Task Force, Against Family Violence said she is thrilled to see the event grow to more than 400 registrants and over 60 sponsors this fall.
Craig McCullough, a member of the Olde Town Runners, said the RAV has evolved into a great event due to the pre-race party, organization and the fast, flat course that is certified as a Peachtree Road Race qualifier.
The events began with the traditional "Pre-Race Party" at Las Flores restaurant allowing participants the opportunity to pick up their race packets. The race was held at the Conyers First United Methodist Church.
Judge Bills thanked Kappa Sigma Fraternity for not only being the RAV's Title Sponsor, but also for the numerous volunteers it provided on race day. She also thanked Toyota Forklifts of Atlanta, which had over 65 participants.