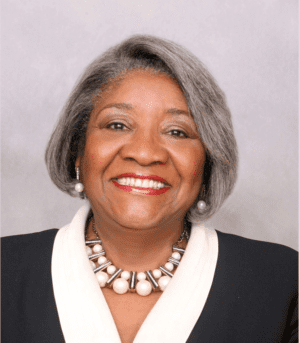 By Valerie J. Morgan
The Atlanta community is mourning the loss of Ollisteen "Steen" Miles, a former state senator and well-respected journalist. She died on March 29 at the age of 70. She courageously fought cancer, sharing her journey through a Facebook support group, "Cancer, You Picked the Wrong Chick."
Miles was a former reporter for WXIA-TV and The Champion newspaper. Miles worked as chief media relations officer for MARTA in 2001, and in 2003, she hosted the talk show, "Faith in the City Forum," bringing together leaders of diverse faiths to discuss public policy and current events.
Miles, a Democrat, was elected state senator for District 43 in 2005. She ran for DeKalb CEO in 2000 and 2008. She was a candidate for Lt. Governor in 2006. In 2014, she ran for the U. S. Senate, according to her biography on several Internet sites.
Rockdale County Tax Commissioner Tisa Smart Washington remembered Miles as a mentor.
"Throughout my years of knowing her, she was always willing to pour into young women. She was a giving person. She was always very professional and polished," said Washington. "When I decided to run for office, she was very encouraging. This was special to me. When you're a woman and decide to run for office for the first time, it's amazing what women who have walked that path have faced. The thing that I admired most about her is that she was always concerned about what she could do to make the community better."
"Steen Miles was already a legend when I met her," Elaine Nickens Davis, former chair of the Rockdale Democratic Party, shared in a Facebook post. "I was amazed at her ability to absorb information and to feed it back in a way that let you know right away that she "got it." A true professional, it may be awhile before we see her special kind of "light" again."
Publicist Angela Moore, who said she made sure that Miles was honored recently at DeKalb Commissioner Gregory Adams' Hidden Figures Awards program, said she was thankful that she and Miles were photographed together at Miles' 70th birthday party.
"It's funny, I have taken pictures with presidents and kings, First Ladies and queens, and all in between from hither and beyond, but the people closest to you, you never think to take precious memories with. If it were not for Kellie, Steen's daughter taking a selfie at her 70th birthday bash just 7 months ago, I would not have this… This will have to suffice as my treasure of all time," Moore said.
Miles lived in Decatur. She is survived by two daughters, Kellie and Heather, as well as two grandchildren, William and Kellea.
The celebration of life services for Ollisteen "Steen" Miles will be held on

Saturday April 8, 1 p.m.

at Greenforest Community Baptist Church, 3250 Rainbow Drive, Decatur. The Rev. Emory Berry, senior pastor, will be the eulogist. Viewing will be held

on Friday

, 
April 7,  10 a.m. to 8 p.m.

, with a family hour from

7-8 p.m.

at Gregory B. Levett & Sons Funeral Homes & Crematory, Inc., 4347 Flat Shoals Pkwy., Decatur. 
A memorial service will be held

April 12, 1 p.m.

, in South Bend, Indiana.  Funeral Homes 4347 Flat Shoals Pkwy., Decatur.