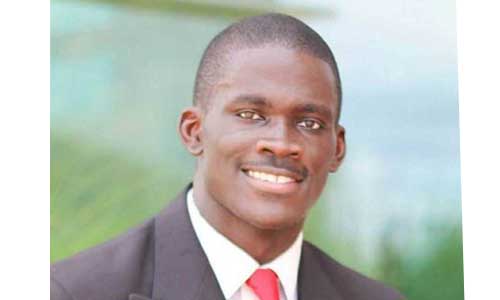 Five DeKalb leaders to join Woodall on historic state cabinet 
By Valerie J. Morgan
James "Major" Woodall, 25, has been elected as the new state president of the Georgia NAACP. The historic vote of the state NAACP makes Woodall, who is from Bulloch County, GA, the youngest to serve as state president in the 110-year history of the civil rights organization.
The DeKalb County NAACP branch will be well represented in Woodall's cabinet. DeKalb President Teresa Hardy and members Louise Thomas, Shelby Hall, Vivian Moore and Yvonne Hawkins all were elected to two-year terms for the 13-member state executive committee. DeKalb is among the 100 branches that are members of the state civil rights organization.
"We are very excited to be a part of the historic executive committee," said Hardy, who was elected treasurer. "We have been pushing leadership among young people. They have the energy and we are looking forward to working with Mr. Woodall and using that energy to move us forward."
Woodall is a 2018 graduate of the NAACP's Next-Gen leadership training program for young adult NAACP members between the ages of 21 to 35. His involvement with the NAACP includes serving as Georgia Youth and College Division state president and first vice president of the Bulloch County Branch.
"I ran for state president because far too many people are suffocating from lack of access to healthcare, clean air and water, poor education and mass incarceration," Woodall said.
A graduate student at the Morehouse School of Religion in the Interdenominational Theological Center, Woodall is a minister at Pleasant Grove Missionary Baptist Church in Marietta. He served eight years in the United States Army as an Intelligence Analyst.
Officials said Woodall's election, which took place in Marietta at the 77th Annual State Convention, marks a new beginning for the Georgia NAACP, which was founded in 1909. They said Georgia branches are poised to focus on the 2020 elections, the decennial U.S. Census, redistricting and reapportionment, and other critical issues.
In addition to Woodall, the new executive committee includes:
First Vice President: Barbara Pierce (Columbus)
Second Vice President: Jonathan Johnson (Houston County)
Secretary: Delinda Gaskins (Bulloch County)
Assistant Secretary: Tanya LaFleur (Cobb County)
Treasurer: Teresa Hardy (DeKalb County)
Assistant Treasurer: Louise Thomas (DeKalb County)
State President, Georgia Youth & College: Amari Fennoy (Cobb County)
Members-At-Large: Jereine Grimes (Cobb), Shelby Hall (DeKalb), Yvonne Hawks (DeKalb),Vivian Moore (DeKalb), Kipp Carr 
(Atlanta and Larry Lockey (Waycross)