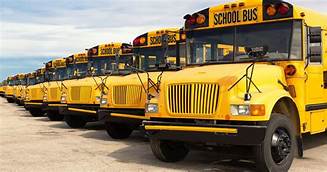 DEKALB COUNTY, GA—DeKalb County School District officials are working to resolve issues and concerns with school bus drivers, hoping to avoid massive absences this week such as the one that occurred in Region 1 on Friday, Sept. 10.
A "high" number of school bus drivers did not show up for work on Friday in North DeKalb, prompting delays, canceled routes and chaos as parents scrambled to find alternate transportation for their children.
"We're being proactive. District officials met on Friday to address their(bus drivers) concerns regarding salary increases, pensions and the fact that some parents don't want their children to wear masks," said School Board Chair Vickie B. Turner. "We've been communicating and receiving updates over the weekend."
Turner said the DeKalb School has a shortage of 151 bus drivers. She did not have the total number of bus drivers the district employs immediately available when On Common Ground News reached her at her home this evening(Sept. 12).
The District said in a statement on Friday that  a "high" number of bus drivers did not report to work on Sept. 10 in Region 1, but did not specify the exact number of bus drivers who called in.
As routes were delayed or canceled, parents were left to figure out how to get their children to and from school. District officials said they immediately communicated with parents that several routes were delayed or cancelled.
"Just like other districts in the metro Atlanta area and nationally, the District is experiencing a shortage of school bus driver, officials stated in the news release.
"Our dedicated drivers are working extra hours to get our students to school safely and on time. Through meetings with our bus drivers, they have shared concerns with staff and the District is addressing those concerns," the release stated.
The District did not say which schools were impacted in Region 1. However, Kinglsey Elementary School, located in Dunwoody, said in a Facebook post that two bus routes were cancelled and the City of Dunwoody government also assisted in getting the word out to the public about the bus shortage through social media. A Doraville city official also helped to notify parents about the shortage.