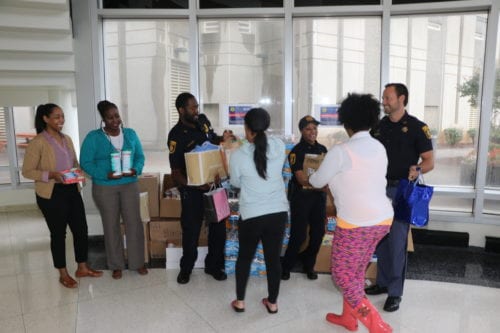 In the aftermath of Hurricane Harvey, DeKalb County residents have opened their hearts and wallets to help residents of the flooded areas of Houston, Texas and along the Gulf Coast.
With thousands of evacuees in shelters and others trapped in their homes by flooded roads, help is pouring in from around the country, according to news reports.
The DeKalb County Sheriff's Office announced that it is accepting donations of water and nonperishables at its headquarters and jail lobby at 4415 Memorial Drive in Decatur The headquarters lobby is open 8:30 a.m. until 4:30 p.m. on weekdays and the jail lobby is open 6:30 a.m. until midnight..
"We are partnering with the American Red Cross for the convenience of DeKalb County and nearby residents who want to support this emergency response effort," said Sheriff Jeff Mann.  The agency will collect items and transport them to donation centers in the affected areas.
New Birth Missionary Baptist Church and the Savvy Foundation are accepting donations in the church's Family Life Center. City Councilwoman Diane Adoma, who represents District 5, which includes the church, is partnering with the effort.
"We are collecting water and nonperishables to be sent to residents of Texas. This is such a hard time for them and we want to be there in their time of need," said Adoma.
Adoma said donations can be dropped off at New Birth's Family Life Center at 6400 Woodrow Road. She said trucks filled with donations are being coordinated out of the Atlanta area.
Adoma said she is encouraging people to drop off donations at the DeKalb Sheriff's Office, if they cannot get to New Birth.
Requested donations include blankets, sleeping bags, air mattresses, pillows, towels; personal toiletries such as new toothbrushes, toothpaste, lotion, shampoo and deodorant; household cleaning products and laundry detergent; non-perishable snack foods, board games, coloring books, playing cards and crayons.
For more information or to make a monetary donation, contact Lisa Wiley-Partridge, community relations manager, at 404-298-8282 or lwiley@dekalbcountyga.gov<mailto:lwiley@dekalbcountyga.gov>.