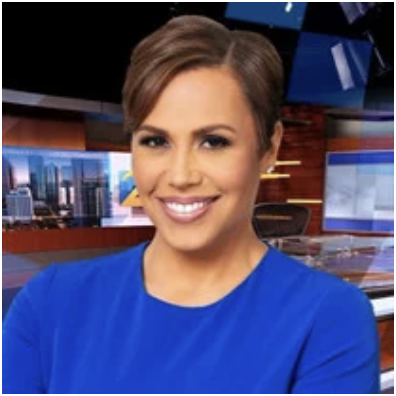 DECATUR—Today, droves of people said farewell to Jovita Moore, beloved Atlanta news anchor and journalist who passed away from brain cancer on Oct. 28. Ms. Moore was 53.
A public viewing was held Nov. 4, from noon until 8 p.m., at Gregory B. Levett & Sons Funeral Homes & Crematory-South DeKalb Chapel, 4347 Flat Shoals Parkway, Decatur.
Ms. Moore had worked with Channel 2 Action News since 1998, where she anchored the evening news, WSB said. The native New Yorker worked for WMC-TV in Memphis and KFSM in Fayetteville and Fort Smith, Arkansas before moving to Atlanta, WSB said.
Ms. Moore died seven months after being diagnosed with glioblastoma, an aggressive form of brain cancer, WSB said in a statement.
"Back in April, doctors discovered two masses on Jovita's brain. After surgery, they diagnosed her with glioblastoma, the most common type of brain cancer. There is no cure," WSB stated.
Gov. Brian Kemp said he was "heartbroken" to learn of Moore's passing.
Moore was a "Georgia icon and world-class journalist," the governor tweeted, adding she "will live on in the hearts of everyone who welcomed Jovita into their homes countless times to inform them about their community and keep them and their families safe."
"Her professionalism and dedication to her audience made Georgia a better place. It has been a true honor and pleasure knowing and working with her."
Atlanta Mayor Keisha Lance Bottoms and her husband expressed their sadness over the loss of Ms. Moore, saying in a statement that they were "deeply saddened by the loss of our friend."  "Even those who did not know her personally felt a deep and personal connection to Jovita. She loved Atlanta dearly.
Nikema Williams, chair of the Democratic Party of Georgia, said Moore would be greatly missed.
"Georgians' hearts are heavy today as we mourn the devastating loss of Jovita Moore. A warm, steady presence in our homes every day, Jovita was for so many of us our link to the city and the world. Jovita was a talented journalist, a loving mother, and a cornerstone of the Atlanta community whose enormous impact was felt far beyond the newsroom. We are lifting up Jovita's family and WSB-TV colleagues in love and prayer during this time of unimaginable grief," Williams stated.
Moore is survived by her mother and two children.
Funeral services for the Atlanta icon are private. Dr. Jamal Bryant, pastor of New Birth Missionary Baptist Church, will deliver the eulogy.