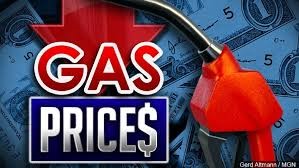 ATLANTA– Georgia gas prices  dropped slightly at the pump compared to a week ago. Georgia motorists are paying an average price of $2.89 per gallon for regular unleaded gasoline. Monday's state average is two cents less than a week ago, five cents less than last month and 97 cents more than this time last year.
It costs Georgia motorists $43.35 to fill a 15-gallon tank of gasoline; that is $6.45 more than what motorists paid in January of 2020 when pump prices hit their peak of $2.46 per gallon.
"An increase in both supply and demand has helped to limit fluctuations in prices," said Garrett Townsend, AAA-The Auto Club Group Public Affairs Director. "If production continues to increase as forecasted, Georgians could see some relief by the end of the month."
NATIONAL AVERAGE TAKES A STEP BACK AS TOTAL STOCKS GROW AND GAS DEMAND INCREASES
Since Monday, the national average for a gallon of regular gasoline has decreased by one cent to $3.07. In its latest weekly report, new data from the Energy Information Administration (EIA) showed growth in gasoline demand and stocks. Demand increased from 8.48 million barrels a day to 9.36 million barrels a day, while total domestic gas stocks increased by 2 million barrels to 243 million barrels. The increase in total supply, even as gas demand increased, has helped to limit pump price fluctuations this week. However, rising crude oil prices could mean higher prices later this month.
OIL MARKET DYNAMICS
At the close of last Thursday's formal trading session, WTI decreased by $1.11 to settle at $71.04. The U.S. Federal Reserve indicated this week that interest rates are expected to increase earlier than forecasted due to rising inflationary pressure, which has put downward pressure on crude prices and limited price increases. However, earlier in the week, crude prices ascended due to optimism that vaccine rollout will continue to help crude demand recover. Additionally, crude prices were bolstered by EIA's latest report revealing that total domestic crude supplies decreased by 7.4 million barrels to 466.7 million barrels last week.
REGIONAL PRICES
Atlanta ($2.92)
Most expensive Georgia metro markets – Savannah ($2.92), Brunswick ($2.89), and Hinesville – Fort Stewart ($2.88).
Least expensive Georgia metro markets – Warner Robins ($2.78), Catoosa-Dade-Walker ($2.80), and Rome ($2.82).
CURRENT AND PAST PRICE AVERAGES (Regular Unleaded Gasoline)  
" src="cid:clip_image001.jpg" alt="FD3BAB1B" border="0″ v:shapes="Picture_x0020_8″ apple-inline="yes" class="Apple-web-attachment Singleton" style="opacity: 1;">
Sunday
Saturday
Week Ago
Month Ago
One Year Ago
2020

Low

2020

High

Record High
National
$3.07
$3.07
$3.08
$3.04
$2.12
$1.76 (April)
$2.59 (January)
$4.11   (7/17/2008)
Georgia
$2.89
$2.89
$2.91
$2.94
$1.92
$1.61 (May)
$2.46 (January)
$4.16   (9/15/2008)
Click here to view current gasoline price averages
GAS PRICE SURVEY METHODOLOGY
AAA updates fuel price averages daily at www.GasPrices.AAA.com. Every day up to 130,000 stations are surveyed based on credit card swipes and direct feeds in cooperation with the Oil Price Information Service (OPIS) and Wright Express for unmatched statistical reliability. All average retail prices in this report are for a gallon of regular, unleaded gasoline.