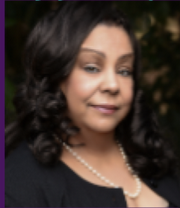 Newly-elected State Rep. Angela Moore, HD 90, is recovering from an accident that happened over the weekend following her inaugural community breakfast meeting. Moore's district covers parts of DeKalb, Rockdale and Henry counties.  
Moore tripped and fell after a community breakfast meeting that she hosted on Saturday (June 5) at Panola Mountain State Park in Stockbridge.  Moore said after the meeting ended, she was headed to get some of the breakfast she had caterer to bring when one of her shoe heels got stuck between a pavement crack and she fell.
"I saw myself going airborne and I was trying to break the fall and the next thing I know, I was down," said Moore.
Moore said she shattered every bone in her left hand. She said the injuries extended to her elbow and she is now waiting to see an orthopedic surgeon.
"I'm recovering and doing better—just in a lot of pain," said Moore, who is right-handed.  
Moore said she was grateful that she did not suffer any nerve damage as a result of the fall.
She said in a Facebook post that she is using voice texting because she can't type right now, warning readers to expect typos and garbled texts.
"…And I'm not going to correct anything so Read Between the Lines," she said in the post.
Moore thanked constituents and members of the community for attending the  breakfast, where updates on the legislative session were provided along with special presentations. She said about 75 people attended including Judge Gary Washington(Incumbent) and Kathy Harvey, who are in a three-way race for the Rockdale County Probate Court Judge. The special election is June 15 with early voting ending on June 11.